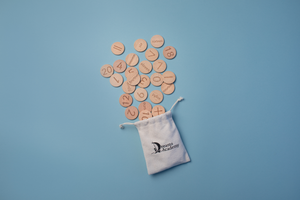 Made from solid beech wood, these coins are made from natural and durable material that children will enjoy exploring. Numbers and mathematical symbols are engraved which gives these coins the textured surface that is great to touch and feel.
Wooden learning coins designed to be used with our Learning Board or on their own. While playing with number coins children practice naming and identifying numbers as well as matching numbers to quantity. 
Open ended learning material that encourages children to use creativity and imagination during play. Great for busy bags. 
Set includes:

- 21 number coins with 0-20 numbers on one side and matching written number on the other. 
- 4 mathematical symbol coins: -, +, =, >.
- Canvas bag for storage. 
Dimensions: 1.5 inches (38mm)
Recommended age 3 years+